Regular price
Sale price
$15.00
Unit price
per
Sale
Sold out
Our Rose hip body scrub is a skincare product that combines the exfoliating power of granulated sugar with the nourishing properties of rose hip oil. When used regularly, this scrub can help to remove dead skin cells, unclog pores, and hydrate and brighten the skin. It also contains antioxidants and essential fatty acids that can help to reduce the appearance of fine lines and wrinkles, making it a great anti-aging solution. It's important to keep your skin hydrated and soft. This body scrub is perfect for smoothing away rough skin and leave you feeling clean and nourished. You'll love the way our organic rose hip oil smells, and how it leaves your skin feeling so soft. By using a rose hip body scrub, you can enjoy the relaxing and indulgent experience of a spa treatment in the comfort of your own home, while also improving the health and appearance of your skin. Give yourself a little pampering, and try our Rose Hip Body Scrub today.
Directions:
Wet your skin: Before using the scrub, wet your skin with warm water to help soften it.

Apply the scrub: Take a small amount of the scrub and gently massage it onto your skin in circular motions. Pay extra attention to areas that are rough or dry.

Rinse off: Once you have scrubbed your entire body, rinse off the scrub with warm water. You may need to use a washcloth to help remove all of the sugar granules.

Pat dry: After rinsing off the scrub, .

Moisturize: After using the scrub, it is important to moisturize your skin to help lock in moisture. You can use a lotion or oil that contains rose hip oil to help maximize the benefits of the scrub.
Important: Pat your skin dry with a towel. Avoid rubbing your skin, as this can cause irritation. It is important to note that while using a body sugar scrub can provide many benefits for your skin, it is also important to use it in moderation. Over-exfoliating your skin can cause irritation and damage, so it is best to use the scrub no more than twice a week.

Benefits:
Exfoliation: The granulated sugar in the scrub helps to remove dead skin cells, leaving your skin smoother and softer. It can also help to unclog pores, which can prevent acne and blackheads.

Hydration: Rosehip oil is rich in essential fatty acids, vitamins, and antioxidants that can help to moisturize and nourish the skin. This can help to reduce dryness and improve the overall appearance of the skin.

Anti-aging properties: Rosehip oil is known for its anti-aging properties, as it can help to reduce the appearance of fine lines, wrinkles, and age spots. It also contains vitamin C, which is a powerful antioxidant that can help to protect the skin from damage caused by free radicals.

Brightening: The combination of sugar and rosehip oil can help to brighten the skin, giving it a more radiant and youthful appearance.

Relaxation: Using a rosehip body sugar scrub can be a relaxing and indulgent experience. The gentle exfoliation and luxurious scent can help to reduce stress and promote a sense of well-being.
Overall, a rosehip body sugar scrub can be a beneficial addition to your skincare routine, helping to improve the texture, appearance, and health of your skin.
Share
View full details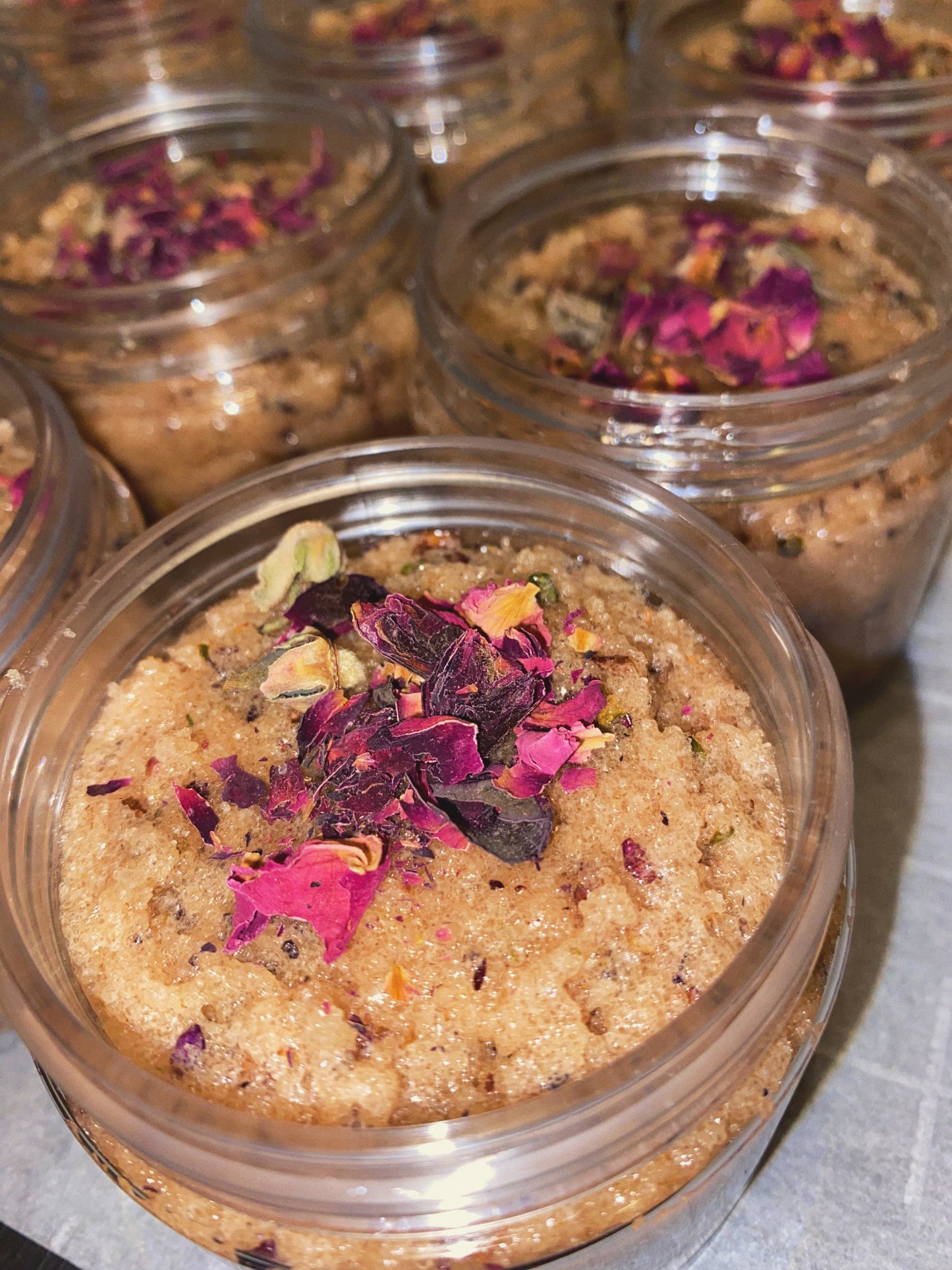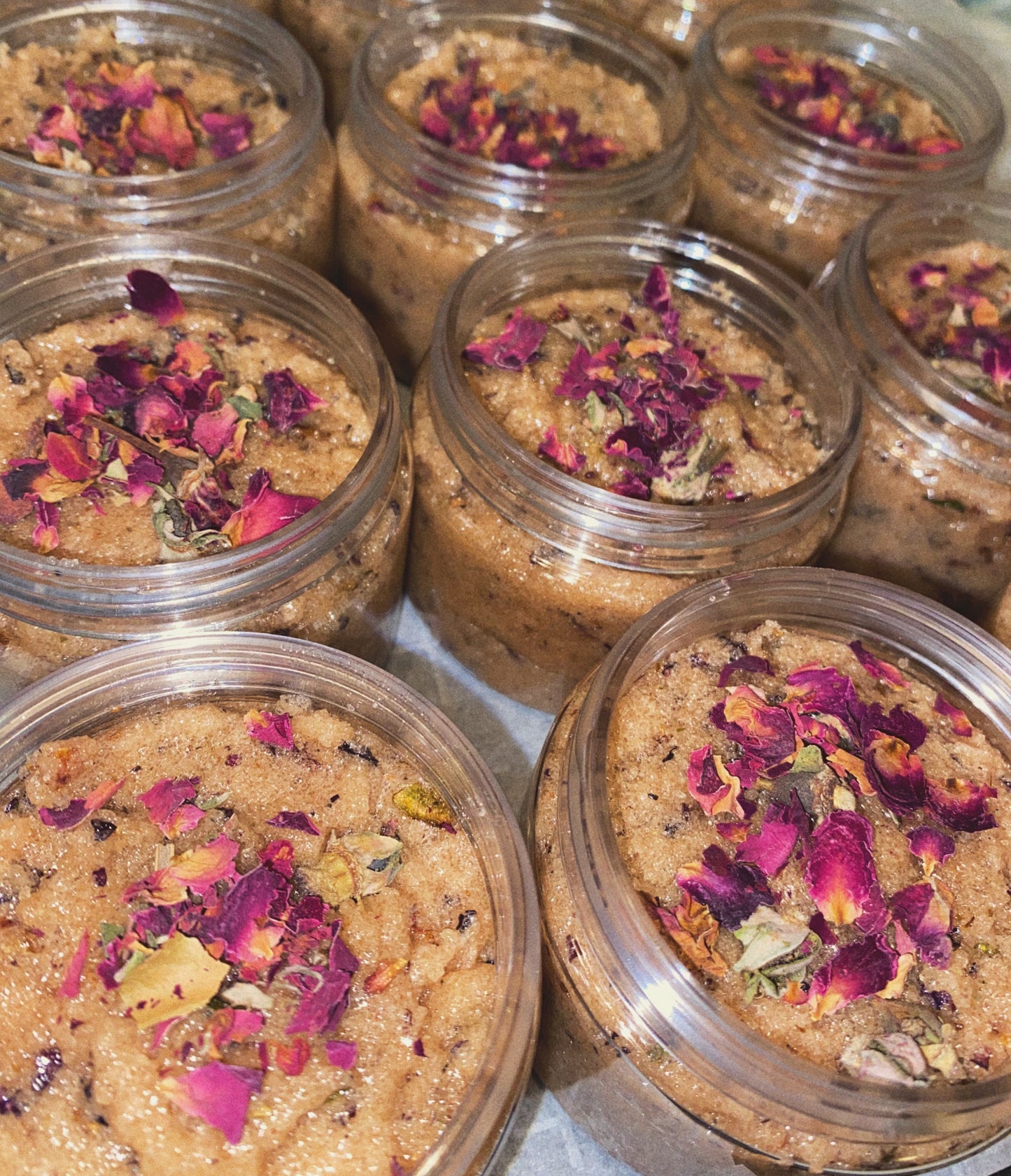 Hey Girl, this ain't just for the femmes....
Hey Girl, this ain't just for the femmes. Great for the masculines out there too! A phenomenal product, my body-ody-ody is as spoiled and smooth as it'd been freshly oiled with this wonderfully fragranced and quality scrub. The rose body scrub is fragrant, but not obnoxiously feminine like some other floral products I've tried in the past. A pleasant fresh, subtle and clean aroma. The attention taken to ship makes it seem like I gifted it to myself (I did), but would be a great gift to give as well.